Mount Marty Name Change Reflects Growth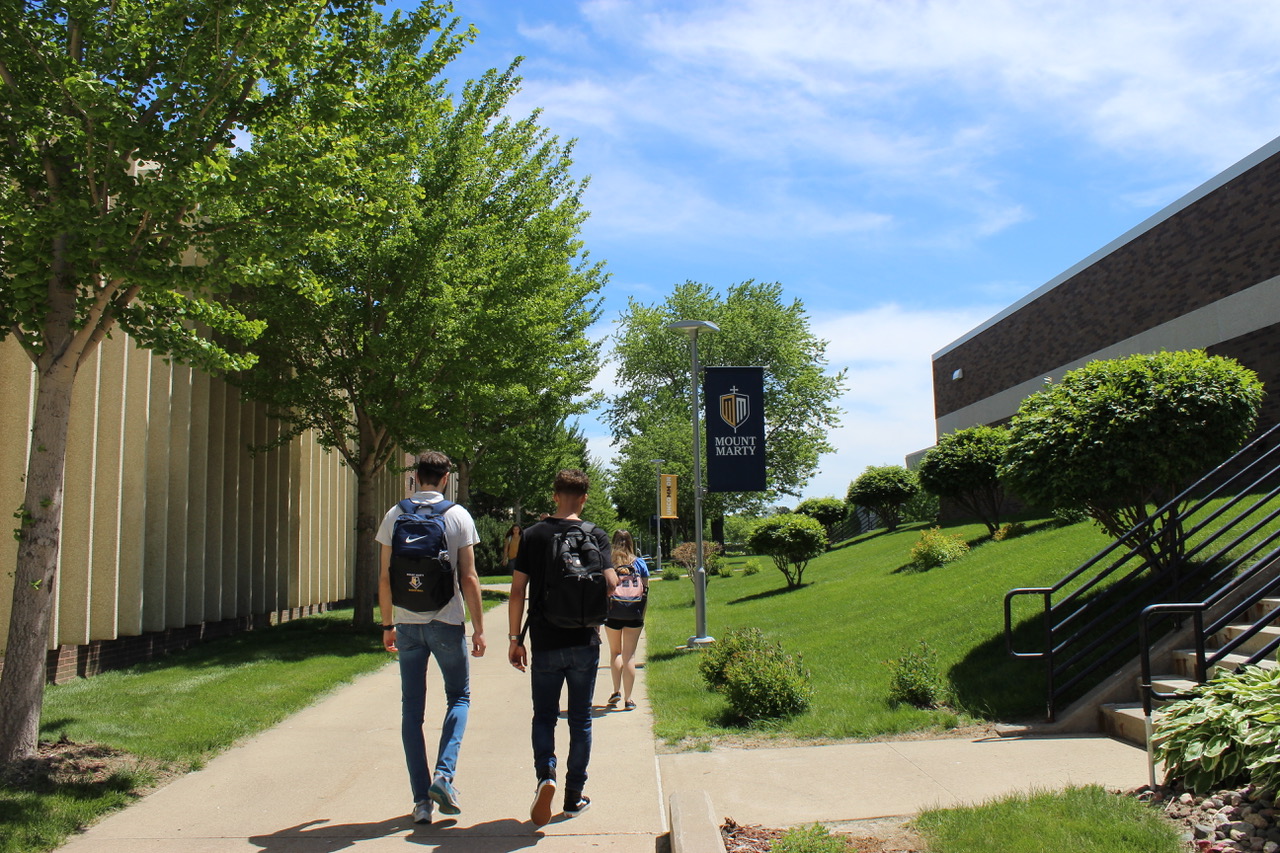 Students across the country will soon head to colleges and universities in an atmosphere of uncertainty due to the COVID-19 crisis. Those heading to Yankton, South Dakota, know one certainty however: they will be attending Mount Marty University. The name change from a college to a university officially occurred this summer, and although one word may not seem important, it does reflect the academic, resource and cultural growth the institution has undergone.
The name change was announced by administration in January, officially took place on July 1 and is the latest in a series of changes as it has grown. The Benedictine institution was started as Mount Marty Academy in 1922, and became Mount Marty Junior College in 1936. It transitioned to Mount Marty College in 1951 when it became a four-year baccalaureate degree granting institution.
More than a Name
Now, the new name reflects further growth and a lengthy process to determine if the change was right for Mount Marty. Administration was strategic about rebranding, which proved to be fairly taxing as it had to be mindful of every new order which included the name and finding every publication where "college" had to be replaced by "university."
"This has been nearly four years of an evolutionary process," said Kelsey Freidel Nelson, Executive Director of Marketing and Communications at Mount Marty. "And the result is acknowledging who we want to be at Mount Marty."
Academic Growth
Freidel Nelson said the largest growth area may be in academics, as institution leaders have invested in academic program development, administration and faculty. Most students are enrolled in professional studies programs such as education, business, criminal justice and nursing. Mount Marty is also the only private college or university in South Dakota to offer a doctorate program, which is Nurse Anesthesia.
"The name change is intended to reflect this commitment and should help provide us more credibility, both in local student recruitment, as well as internationally," said Freidel Nelson.
Reflection of Investment
The university has been actively improving its facilities as well. Two major building projects began in 2019. The first was a 100,000 square-foot fieldhouse which includes a 74,000 square-foot event space, a 200-meter, eight-lane track and a 7,500 square-foot weight training and fitness facility. Construction costs for the fieldhouse were $15 million. Mount Marty's athletic programs participate in the Great Plains Athletic Conference, which consists of many universities that previously were colleges. Competing with similar institutions helped Mount Marty leaders decide to recently add football and competitive cheer and dance to its athletic offerings.
"There has not been college football in Yankton for decades," said Freidel Nelson. "Adding those programs will definitely increase the excitement surrounding our university."
The second major investment was the construction of a new residence hall on the Yankton campus. The $4.5 million construction is set to be completed this August with occupancy beginning with the fall semester and house up to 96 third- and fourth-year students. The university plans for it to be a living learning community with suite-style living and partial kitchenettes and quiet learning spaces, providing a holistic transitional community as students make their way through their last years of college.
Culture with Yankton
Perhaps most importantly, the name change reflects the culture the university seeks to build on for future success. Freidel Nelson said Mount Marty has had a long relationship with the city of Yankton. The university's annual Mission Day, a full-day centered on servant leadership in fulfillment of the college's Catholic Benedictine mission, allows students to spend the full day helping in various manners in Yankton. Freidel Nelson said it is an excellent example of how Mount Marty wishes to strengthen its bond with the city.
"We do not want to be known just as the college up on the hill," said Frediel Nelson. "We want to make sure we are a part of the community and Yankton is a part of us."
The fieldhouse is an example of an opportunity to build a stronger partnership with the community as well. The weight training and fitness facility will be open to both Mount Marty and the Yankton community. The university estimates its economic impact on Yankton is about $15 million per year and the fieldhouse could provide an annual increase of $2 million. The increase would come from additional visitors coming to Yanton for events, additional spending associated with enrollment growth and the additional faculty and staff needed to accommodate that growth.
Growing Together
Like many universities across the country, Mount Marty University has adjusted its fall 2020 schedule in light of the COVID-19 crisis. Classes are set to begin on August 24 and conclude on November 24. But while Mount Marty officials hope the schedule change is temporary, it knows the name change reflects its permanent attitude toward the students and the Yankton area, said Freidel Nelson.
"Becoming a university reflects our growth and desire to be involved with the Yankton area and we are honored to be part of the economic and social community there," she said. "We want to grow together, because we know the more Yankton grows, the greater draw it is for our students and vice versa."
More Topics
Yankton Area Chamber of Commerce, Yankton Area Progressive Growth/Greater Yankton Living and Visit Yankton are working more diligently than ever to serve our community during this time of COVID-19 prevention. We have created a landing page with local guidelines and valuable updates to help you sift through the large amount of information that exists surrounding th...
We are asking all local employers for help in understanding our regional workforce force needs as we focus on the 2nd half of 2020. Please take a few minutes to complete the following SHORT survey that looks BACK 0-60 days and looks AHEAD 0-60 days. https://www.surveymonkey.com/r/YC3K3GQ
Did you know that as of June 2020, over 68% of Yankton County residents have already completed the US Census? Do not worry if you are one of those who have not, because, due to the Covid-19 crisis, the U.S. Census Bureau has extended the deadline to October 31, 2020...